From Directors Desk
Witnessing diversification, globalization and competition taking place in contemporary businesses it's imperative for improvement in work processes to aid faster decision-making. Times have changed in terms of doing business; we are now in the age of symbiotic global collaboration to move projects forward. Therefore, it is vital to disseminate information rapidly and accurately to develop an environment conducive for creation of new knowledge. Thus, communication not only supports businesses but also decides the course of changes we wish to make.
The rapid evolution of satellite, ground communication, Information Technology / Internet of Things (IOT) and diversified media has led to the amount and types of distributed information becoming larger. With our technologies and expertise honed over the years in realm of communications, our goal is to help customers resolve issues in every phase of their work and expand their businesses, which includes optimizing overall work flow and strengthening their relationships with their own customers. Moreover, we will not only provide solutions to individual companies but also offer a new technological vistas and amenable environment with a wider scope to local communities and governments.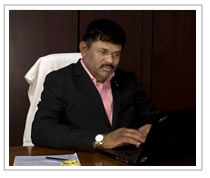 Under a new management team that started in January 2018 and with our Advisory capacity, we have refurbished our corporate eminence with enhanced governance anchored by an open, fair and transparent corporate culture as stated in the SATCOM policy. By propelling our business transformation through globally accepted solutions and services, we strive to contribute our mite in solving customers' requirements.
It gives us immense pleasure to thank all our valued associates and customers, whose continued patronage and confidence in our products and solutions inspires us to extend the best services and enables us to add value for their money and time.
Warm Regards,
Jay Prakash Swain